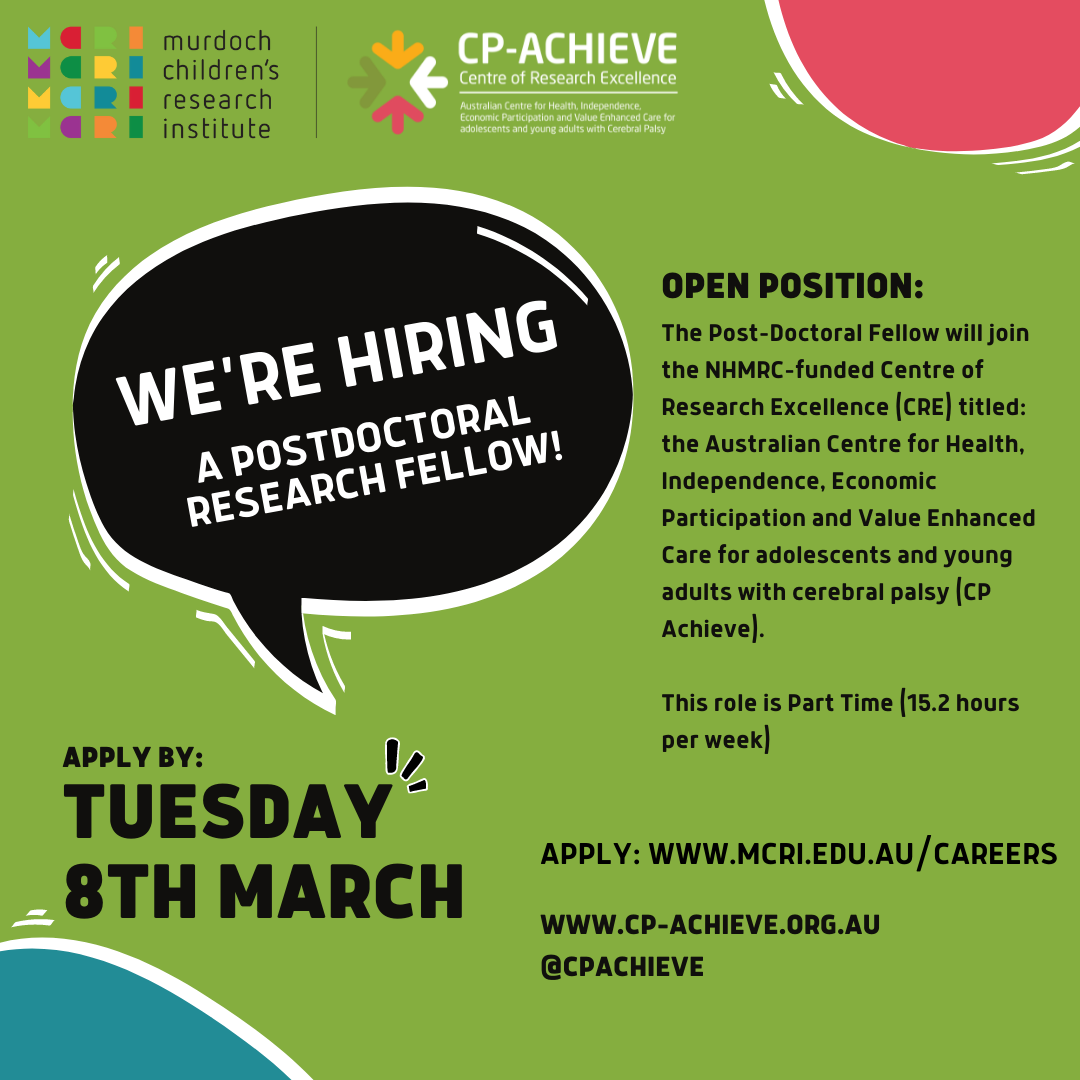 Your Opportunity:
The Post-Doctoral Fellow will join the NHMRC-funded Centre of Research Excellence (CRE) titled: the Australian Centre for Health, Independence, Economic Participation and Value Enhanced Care for adolescents and young adults with cerebral palsy (CP Achieve).
CP Achieve is structured to deliver a range of research projects within two Programs: (1) Improving physical and mental health; and (2) Building supportive environments. Cutting across all programs are three themes: (A) Authentic consumer engagement; (B) Promoting participation; and (C) Economic analysis.
This Post-Doctoral Fellow will contribute research expertise and activity associated with Program 1 - Improving physical and mental health.
Program 1 has the following overarching goals: (1) estimating prevalence of physical and mental health problems and their impact on participation in education, employment and community and (2) understanding health service use and outcomes, including outcomes of transition services. The particular foci of this role will be on physical health outcomes.
It is expected that the incumbent will work towards achieving the research and translation outcomes articulated within the CP Achieve overall plan and build an individual research track record.
Your responsibilities include but are not limited to:
Conducting ethical research at the highest level of integrity and in line with the Australian Code for Responsible Conduct of Research and MCRI policies.
Conducting research activities in alignment with the strategic direction of CP Achieve.
Attracting external competitive funding and developing a record of high-quality publications, potential commercial/clinical/public health research impact and peer recognition.
Contributing actively to the collective work of CP Achieve through active involvement in teamwork and demonstrating the ability to lead a research team/project and develop, manage and mentor employees creating a positive scientific research culture.
Co-supervising, or where appropriate, supervising honours or postgraduate research projects pertinent to CP Achieve.
Essential
Relevant PhD/Doctoral qualification in allied health, psychology, medicine or related field.
Demonstrates an appropriate level of expertise gained from a combination of experience, training or professional accreditation in a field relevant to the research focus on outcomes for people with childhood-onset neurodisability.
Building a reputation at a National level as an outstanding researcher with capacity for building an international reputation.
Developing a track record in research leadership and/or knowledge translation, including evidence of capacity to be successful in obtaining grant funding.
Evidence of research outputs and impact as evidenced by publication records, conference attendance and presentations.
Demonstrated capacity to work independently and collaboratively in a team environment.
Advanced communication, presentation and writing skills.
Desirable
Experience in co-design of research with those with lived experience
Experience in qualitative research skills methodology.
Experience and ability to lead and mentor colleagues in order to foster a positive scientific research culture.
Preferably resident in Victoria.
We are proud to announce that the 2022 AusACPDM and CP-Achieve Photo Exhibition is now live. 
We invited people with lived experience of cerebral palsy and childhood disability to submit photos of themselves or their loved ones under the following categories: Family, Fun, Fitness and Friends.
We have received 24 high quality submissions from a diverse group of photographers and directors of photography, showcasing depth of talent and creativity. 
There is a chance for our entrants to win one of four $100 prizes by popular vote (one prize per category). Please visit the exhibition above to view and vote for the photos. You may vote for one photo per category.
Voting closes midnight Thursday 24th February 2022 and winners will be announced at Better Together 2022 on Friday 4 March.