2022 Photo Exhibition Submission Now Open!
The AusACPDM and CP-Achieve are excited to announce the launch of our second Lived Experience Photo Exhibition.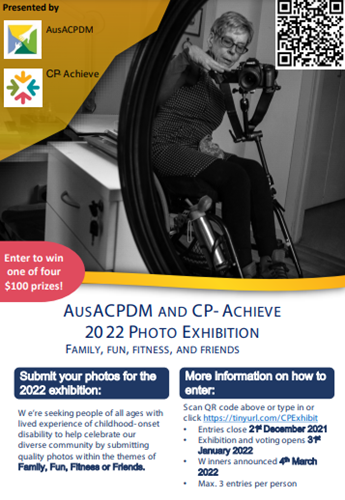 We're seeking people of all ages with lived experience of childhood-onset disability to help celebrate our diverse community by submitting quality, original photographs within the themes of Family, Fun, Fitness or Friends.
Photos that meet the exhibition guidelines will be showcased on our website where the community will be able to cast a vote for their favourite. One photo in each category will be selected as a winner, and the entrant will be awarded a prize of $100AUD.
Submitted images may be used to complement future online and published work by the AusACPDM and CP-Achieve.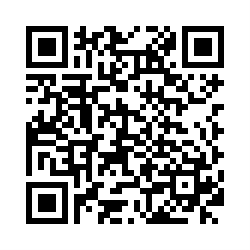 To submit your photos CLICK HERE or scan the QR code above.
During the online submission process, entrants will be asked to agree to the exhibition terms and conditions. There is a maximum of three entries per person.
Entries close midnight 11.59pm 21 December 2021. The exhibition and voting will open on 31 January 2022 with winners to be announced on 4 March 2022.
We are Hiring a Postdoctoral Research Fellow!
We are looking a Post-Doctoral Research Fellow. The candidate will join the Australian Centre for Health, Independence, Economic Participation and Value Enhanced care for adolescents and young adults with Cerebral Palsy (CP Achieve), working with Program 1 - Improving physical and mental health.
Key Criteria:
-Relevant PhD/Doctoral qualification in psychology, allied health, medicine or related field.
-Demonstrates an appropriate level of expertise gained from a combination of experience, training or professional accreditation in a field relevant to the research focus on outcomes for people with childhood-onset neurodisability.
-Experience in quantitative research skills methodology.
-Experience in mental health research methodology, preferably in the adolescent and young adult age groups.
-Evidence of research outputs and impact as evidenced by publication records, conference attendance and presentations.
-Demonstrated capacity to work independently and collaboratively in a team environment.
-Advanced communication, presentation and writing skills.
Desirable:
-Building a reputation at a National level as an outstanding researcher with capacity for building an international reputation.
-Developing a track record in research leadership and/or knowledge translation, including evidence of capacity to be successful in obtaining grant funding.
-Experience in co-design of research with those with lived experience.
-Experience and ability to lead and mentor colleagues in order to foster a positive scientific research culture.

If this sounds like you, we would love for you to apply here: https://www.mcri.edu.au/careers
Applications Close November 30th, 2021!
Georgia Mckenzie, CP-Achieve PhD Student
Stacey Cleary, CP-Achieve Postdoctoral Research Fellow
Prue Morgan, CP-Achieve Chief Investigator