The CP-Achieve webinar series- Wednesday 20 September at 5pm
Published

Thursday, August 24, 2023 - 12:00 PM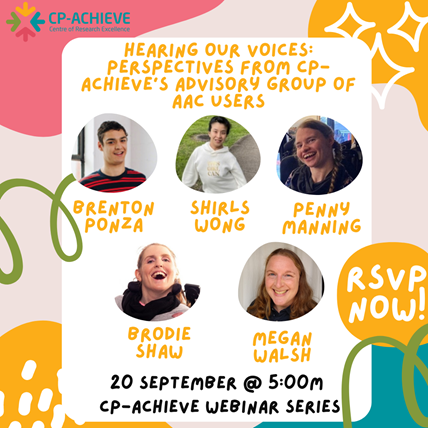 Hearing our voices: Perspectives from CP-Achieve's advisory group of AAC users- Presented by Penny Manning, Brodie Shaw, Brenton Ponza, Shirls Wong and Megan Walsh
Penny, Brodie, Brenton and Shirls are members of CP-Achieve's One Group, Our Voice, have cerebral palsy (CP) and use alternative or augmentative communication (AAC). They are passionate about sharing their knowledge of CP and communicating with AAC users, especially to help researchers involve AAC users in research.
Megan is a speech pathologist and CP-Achieve PhD candidate who works with One Group, Our Voice and shares the goals for optimising involvement of AAC users as research partners and research participants.
Reserve a spot via Eventbrite.