Mentors for adolescents with cerebral palsy
Would you like to become a mentor for an adolescent with cerebral palsy?
A 'mentor' is someone who advises, guides and supports another person to achieve their goals. 
CP-Achieve is setting up a group of adolescents with cerebral palsy, known as 'Adolescent Advisors', to inform our research. We are searching for dedicated young people with an interest in becoming a mentor to an Adolescent Advisor. This could be you!
You could be a mentor if you are:
A young adult - around 17 years and over
Keen to develop skills as a mentor
A great communicator
Interested in supporting the personal and professional development of adolescents with cerebral palsy
Keen to get an edge for your resume
Willing to volunteer for 2-4 hours per month
We welcome interest from young people with disability and their siblings, and health science/allied health students.
About CP-Achieve
CP-Achieve is a Centre for Research Excellence funded in 2019 by the NHMRC for five years. CP-Achieve stands for Australian Centre for Health Independence, Economic Participation and Value Enhanced Care for adolescents and young adults with cerebral palsy (CP). The focus of CP-Achieve is on adolescents and young adults with cerebral palsy aged 10 to 30 – an important life stage when young people are gaining their independence and figuring out who they are and want to become.
Our Vision
The vision of CP-Achieve is to improve the lives of people with cerebral palsy in Australia so that they are able to participate in, and contribute to, supportive communities.
Why mentors for Adolescent Advisors are important
Authentic involvement of adolescents with cerebral palsy as research partners is a key component of CP-Achieve. Meaningful individualised support from a dedicated mentor is part of our commitment to supporting young adults with cerebral palsy to contribute fully.  A mentor will enable adolescents to develop the confidence and skills to participate as research partners from the beginning to the end of projects. 
The role of mentor
As a mentor you will work together with your matched Adolescent Advisor to provide support.  The staff and researchers of CP-Achieve will also support you in your role as a mentor. Your Adolescent Advisor will learn from you as you will learn from them.
Your role with your Adolescent Advisor may be different to that of another mentor, depending on the Advisor's communication and support needs.  Your role may be to support your Adolescent Advisor to prepare before meetings and to provide opportunities to debrief after meetings. Your support will assist them to feel more confident to contribute to projects now and into their future. 
Time Commitment
Depending on your Adolescent Advisor, being a mentor may require 2 to 4 hours per month.  There will be times when more or less support is needed. You can be involved from as little as 6 months or longer if you would like to.
Benefits of being a mentor
Documents to support your résumé/curriculum vitae
Experience to stand you apart from other job applicants
Free access to CP-Achieve events
What happens next?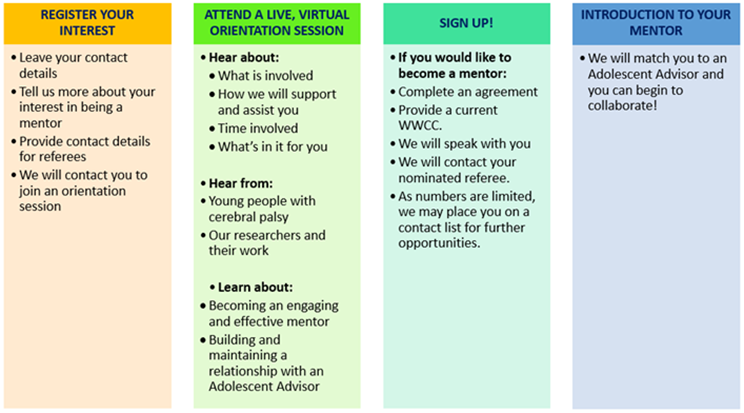 Interested?
Click here to submit an expression of interest in being involved and leave your contact details. We will get back to you with details of the orientation session.