Community-based physical activity interventions for adolescents and adults with complex cerebral palsy: A scoping review
Published

Thursday, May 25, 2023 - 12:00 PM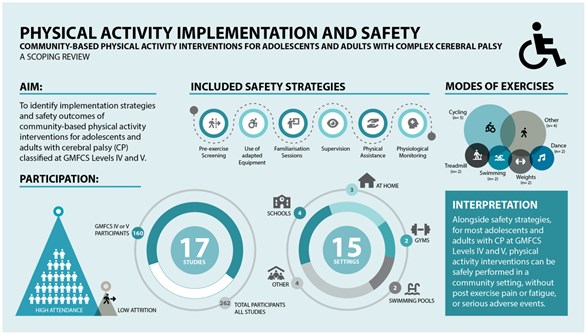 It is important for people of all ages and mobility levels to have access to safe physical activities. Being physically active reduces the chances of sickness as we get older and helps our bodies and minds to feel well.
Young people with complex forms of cerebral palsy (CP) are more likely to have long-term health issues because they don't participate in physical activity as much. They want to be more involved in community physical activities but face many barriers. It's important to find suitable physical activity programs they can join, to address their health needs.
Professor Prue Morgan and a team of CP-Achieve researchers conducted a review of exercise programs for teenagers and young adults with complex forms of cerebral palsy. Their goal was to identify ways that exercise programs were delivered to this population ('implementation strategies') and assess the safety of the programs.
They identified seventeen studies that included 160 people. Exercise programs were held in schools, homes, gyms, and swimming pools. The exercise programs included activities such as cycling, walking on treadmills, swimming, weightlifting, and dancing.
There were high participation rates, and only a few people experienced minor soreness or fatigue. Serious events related to exercise were rare, with only 4 out of 160 participants (<2%) reporting them. Across all the studies, only three participants withdrew, and one participant took a break from exercising for a short period.
The implementation strategies for these exercise programs included pre-exercise screening, using adapted equipment, familiarization sessions, supervision, physical assistance, and monitoring participants' physical well-being.
This review shows that for most adolescents and adults with CP classified in GMFCS levels IV and V, it is safe to participate in physical activity programs in a community setting. They generally do not experience post-exercise pain or fatigue, nor do they face serious negative events.
See link to read more
https://doi.org/10.1111/dmcn.15611